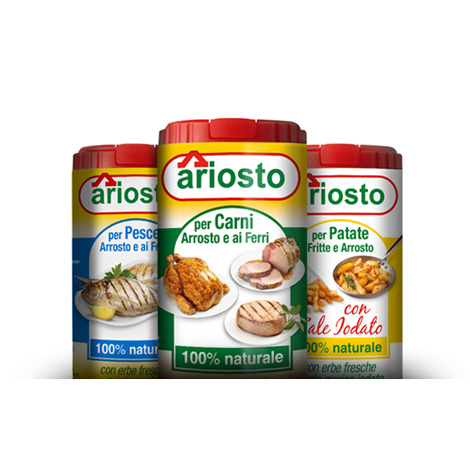 Our products
A full range, for every meal table. And for every kitchen.
The great tradition of Italian cuisine is served to perfection by Ariosto's product lines. Because when the talk turns to eating well, to taste and flavour, Ariosto always comes to mind, with its complete product lines of longstanding renown but also its new ideas and new recipes, developed to meet the needs of a continually evolving market. For the housewife as for the chef, Ariosto is always Ariosto.
Discover the lines
Inspiration going back over fifty years.
Over all these years Ariosto has learnt to deal with change, evolution, and the need to improve production. Well aware however that everything can be perfected except what is already, by its very nature, perfect. True to our traditional recipes, we continue to make good, simple and natural products, always and only using selected raw materials: the Mediterranean's finest aromatic herbs, certified quality sea salt and fragrant spices. We will continue to put the same care and craft into every one of our products and into the choosing of every single ingredient.
Everything we make contains only what it says it does, with no preservatives or colouring. Our product range is designed to offer any cook (professional or amateur, traditionalist or improviser) that extra touch that makes the difference in the kitchen. Something that's been a little secret between Ariosto and its consumers for over fifty years.