The Ariosto experience can also be enjoyed in the pan, when the recipe calls for some hearty frying. And the quality of the frying depends not only on preparation but also the ingredients. As we very well know. So whether it's a cutlet alla milanese or squid, pumpkin flowers or chicken thighs, or much besides, Ariosto has developed two powerful aids for cooks. Breading with Impan is simple and fast, battering with Pastella a sure success. Because a good oil deserves good breadcrumbs, eggs and selected flour. Simple and genuine ingredients, in the finest Italian tradition.
Ariosto IMPAN ready-to-use Breadcrumb Mix
Ariosto ready-to-use Breadcrumb Mix with egg means golden, light and digestible fried food. It's excellent for classic breaded cutlets, ideal for breaded fish fillets and vegetables. It's also used in restaurants for arancini, mussels au gratin, chicken cutlets, valdostana cutlets, mozzarella in carrozza and classic breaded sole. Ready and easy to use in the oven too, it absorbs little oil and doesn't contains preservatives.
Ingredients: breadcrumbs, powdered egg (8%), flavouring.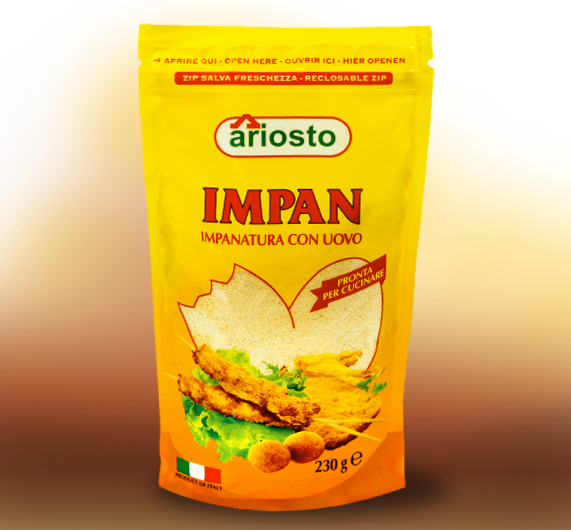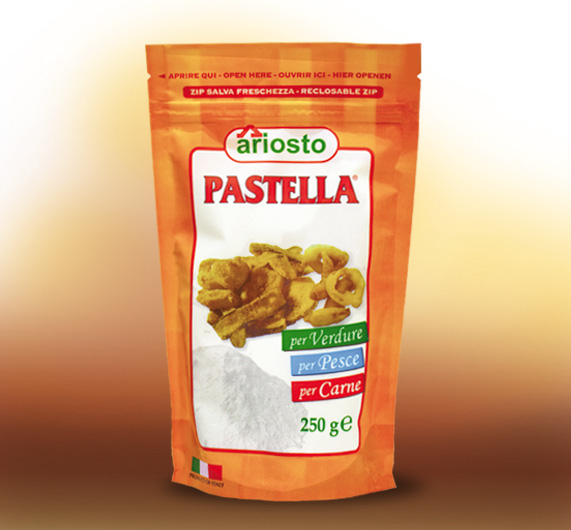 Ariosto BATTER for Frying
If crisp and light fried recipes are on the menu, Ariosto Batter is the ideal help for every cook. Ready and easy to use, it's excellent for fish (shrimps, squid, salt cod, cod, anchovies, fish rissoles) and all kinds of vegetables (cauliflower, cardoons, borage, courgettes, aubergines), pumpkin flowers and artichokes. Not to mention dishes based on red or white meat, such as fried chicken.
Ingredients: wheat flour, corn starch, cornflour, salt.