Ariosto understands consumers' needs very well. More than ever, people are looking for quality products that can also help them eat well, even when they haven't as much time for cooking as they'd like. So here are our ideal "aids". Sicilian Lemon Juice, L'Orto in Busta for fast and genuine sautéed vegetables, the Risotto Line (5 ready-to-cook risottos) and Conciarrosto, from traditional Emilia cuisine.
Sicilian Lemon Juice
Ariosto realized that ready-to-use lemon juice is an instant guarantee of taste and flavour at table. So it offers this concentrated juice from selected lemons grown in Sicily, which produces over 90% of Italy's lemons. A quality juice that lasts well if properly kept.
Excellent for seasoning fish, salads and meat or making thirst-quenching drinks, Ariosto Sicilian Lemon Juice comes in a 200 ml plastic bottle and 250 ml glass bottle.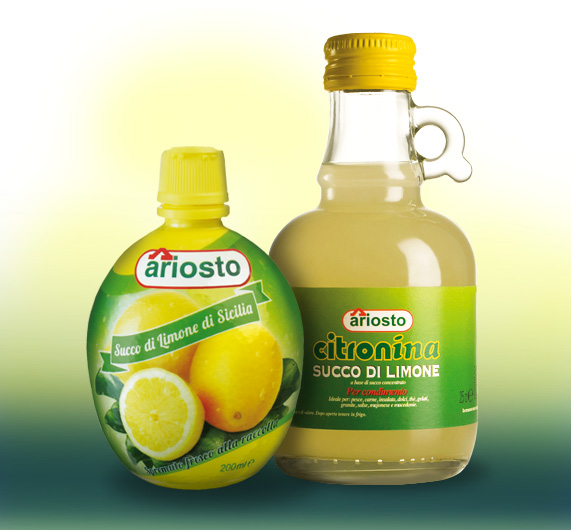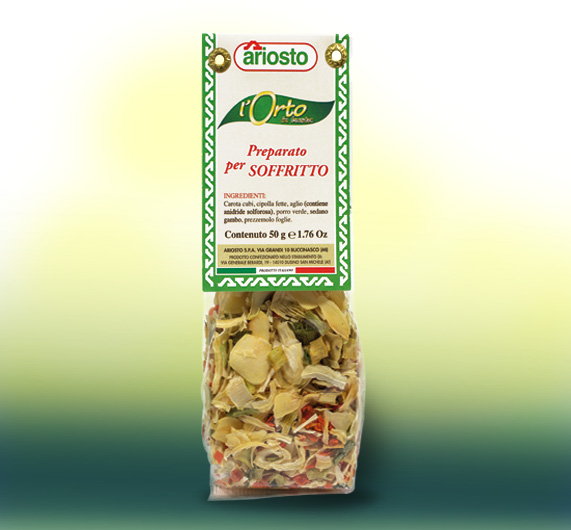 L'Orto in Busta
To prepare an excellent sautéed vegetable base Ariosto has created a flavoursome and ready-to-use mix of herbs and vegetables comprising carrot, onion, garlic, celery, leek and parsley. These ingredients are carefully selected, dehydrated and sealed in sachets to preserve all their quality. Orto in Busta provides a perfect base for soups, sauces and stews. Being ready-to-use, it only takes a little tepid water or wine to revive the aromas of fresh garden produce.
Ingredients: carrot, onion, garlic, celery, leek and parsley.
Ariosto Risottos
Ever ready to help those determined to cook well even with little time, Ariosto presents a new line of tasty, quick to prepare risottos. The pack includes both Carnaroli rice (not pre-cooked) and ingredients for the chosen recipes. The range has five recipes in fact: saffron, asparagus, mushroom, radicchio di Treviso and courgette. Recipes in the Italian tradition, courtesy of Ariosto.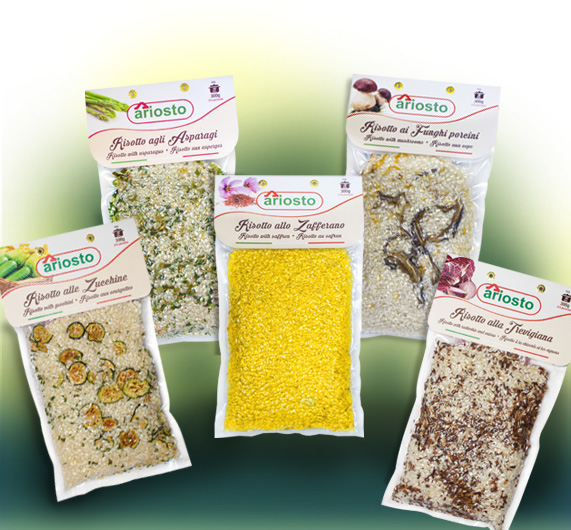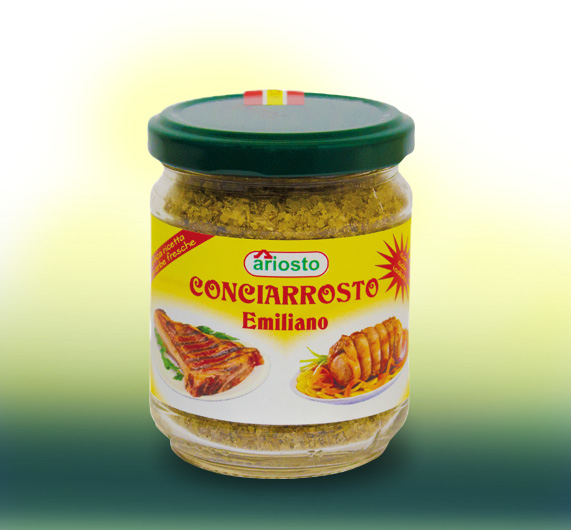 Conciarrosto Emiliano
Ariosto's history is rooted in the traditions of Emilian cuisine. And it was typical Emilian cooking that prompted the creation of Conciarrosto, a mix of aromas for dressing meat dishes. This rustic preparation of iodized cooking salt, a subtle mix of fresh herbs, lemon and pinch of pepper makes an exquisite seasoning, to use preferably in the final stage of cooking of substantial meat dishes such as roasts, rib steaks and fillet steaks and mixed grills.
Ingredients: iodized salt, rosemary, garlic, sage, juniper, lemon, black pepper, aromatic herbs.