When talking of flavours, in the kitchen or at table, everyone has their own idea. But on one point everyone agrees: quality counts. Products, raw materials, provenance. Nature knows this, and so do we. Ariosto's offering covers everything that's needed to give dishes flavour, during preparation or at table. All kinds of salt and pepper, including the important novelty of unrefined sea salt aromatized with organically grown herbs. Precious saffron and a rich range of over 30 spices and aromatic herbs, from chili pepper to curry, from mint to garlic, from rosemary to aniseed.
Unrefined Sea Salt Aromatized with Organic Herbs for Meat
For all meat-based dishes, Ariosto has created an unrefined sea salt mix aromatized with turmeric, ginger and organically grown herbs. Ideal as a finishing touch to all sorts of dishes. Used near the end of cooking, it turns white and red meat, whether roast, grilled or in the pan, into tasty home specialities.
With no gluten or lactose.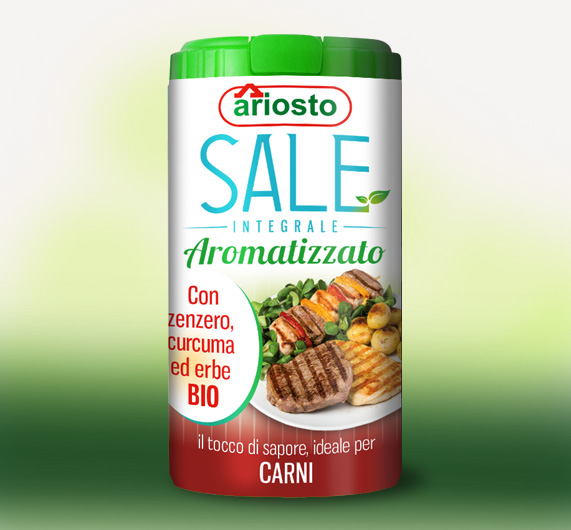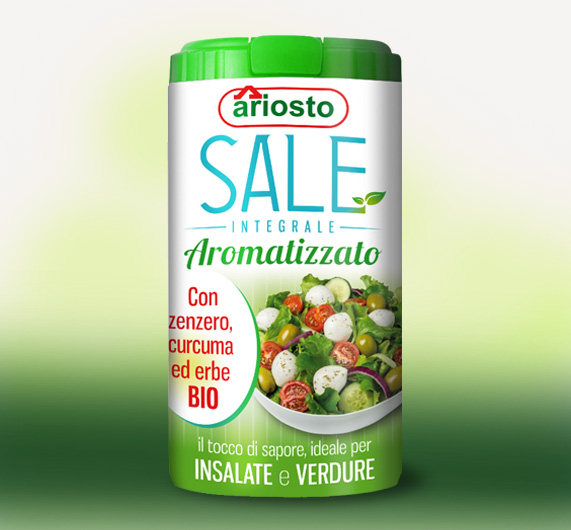 Unrefined Sea Salt Aromatized with Organic Herbs for Salads and Vegetables
To make salads and other vegetable-based dishes even tastier, Ariosto has perfected an unrefined sea salt aromatized with a calibrated mix of organically grown herbs, turmeric and ginger. Used as a normal condiment, it's ideal for adding a touch of character to vegetable side dishes and mixed salads.
With no gluten or lactose.
Spices and Aromatic Herbs Line
Who if not Ariosto could have selected the finest herbs and spices for day to day cooking?
From the most frequently used flavours such as garlic, oregano, basil, onion and fennel, to mint, parsley and rosemary. As well as the right spices for every need or recipe: cinnamon, curry, turmeric, paprika, nutmeg, chili pepper and all the other pepper varieties.
A full range in continual evolution.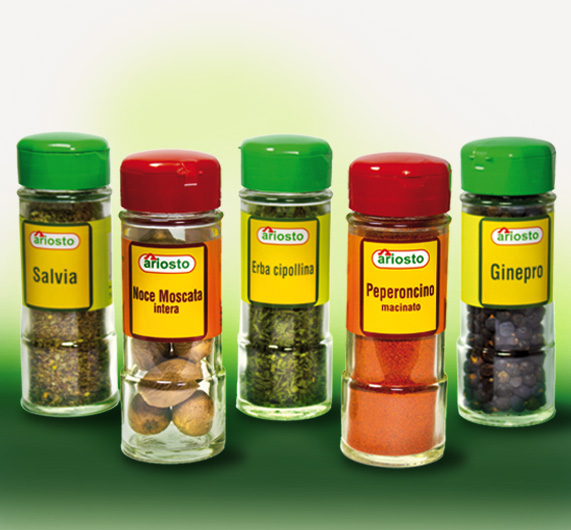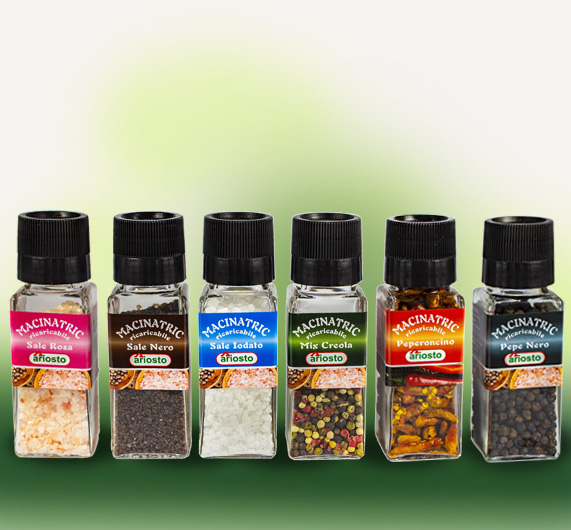 Macinatric Line
Ariosto presents the new Macinatric range: six jars with a handy built-in grinder for salt, pepper and chili pepper, for the best results at table in terms of freshness and flavour. Just as it should be.
The range includes three varieties of salt: Himalaya pink, Hawaii smoked, and iodized. As well as classic black pepper, a "Creole" mix of different pepper varieties and red chili.
Zafferano Aquila
Ariosto's Aquila saffron is ideal for making risottos and meat and fish based dishes, and is obtained exclusively from the milling of saffron (Crocus sativus linnaeus) pistils. Its high quality can be seen in the colour, an intense red due to its crocin content. Crocin is the substance that makes saffron such a potent colouring agent. The flowers from which saffron is obtained are picked in autumn (October-November), completely by hand. Around 150,000 flowers are needed to make a kilo of saffron.
A packet of Aquila saffron contains three 130 mg sachets totalling 390 mg.