Cooking is an art, wherever you do it, whether for the family or dozens of people. Professional cooking, however, requires experience and special attention, specific products and dedicated packaging. And we should know. We've put our Seasonings, Ready-to-use Breading and Lemon Juice in the right formats for large scale use. Well known to the chefs who use our products every day to prepare the food we then find on supermarket delicatessen counters, in company cafeterias and at restaurants.
Ariosto Seasonings 1 kg
All the taste of the bestselling seasonings in Italy in 1 kg jars specially made for professional cooks. You'll find Ariosto flavouring in the spit-roast chickens, baked potatoes and fish dishes on sale in supermarkets, restaurants and company cafeterias. This rich range includes mixes for meat-, fish- and potato-based recipes, as well as the spicy flavour and garlic & chili mixes.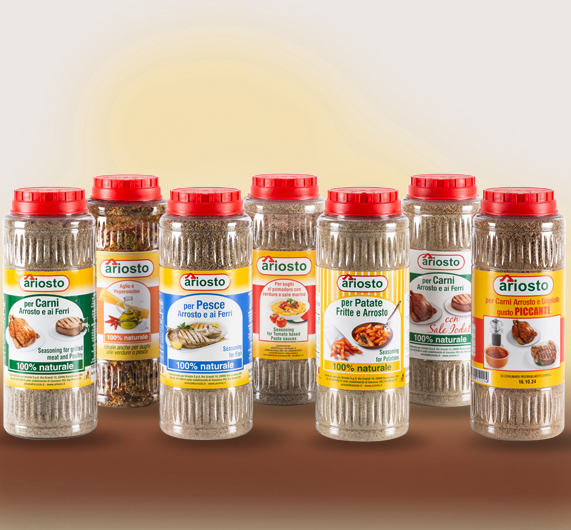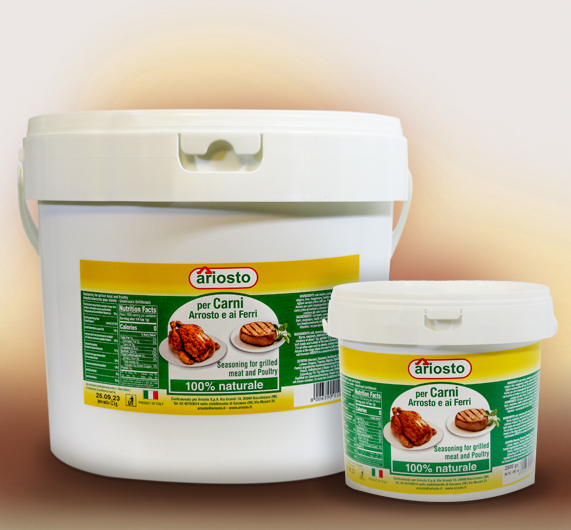 Ariosto Seasoning for Meat – 2.5 kg / 12 kg
An excellent mix of salt and flavourings for all kinds of meat to be grilled or oven or spit roast, in packs for professional use. The 2.5 and 12 kg tubs guarantee quantity and economy for kitchen professionals.
Impan
Impan è il marchio di Ariosto che firma le migliori ricette che prevedono l'impanatura. In casa come nella cucina professionale, con pangrattato e uovo liofilizzato, Impan è già pronta da utilizzare per preparare eccellenti cotolette, pesci, verdure, arancini di riso e crocchette di patate.
Assorbe poco olio e la sua durata di ben 18 mesi la rende ideale alternativa ai singoli ingredienti.
Disponibile in mastello da 3 Kg.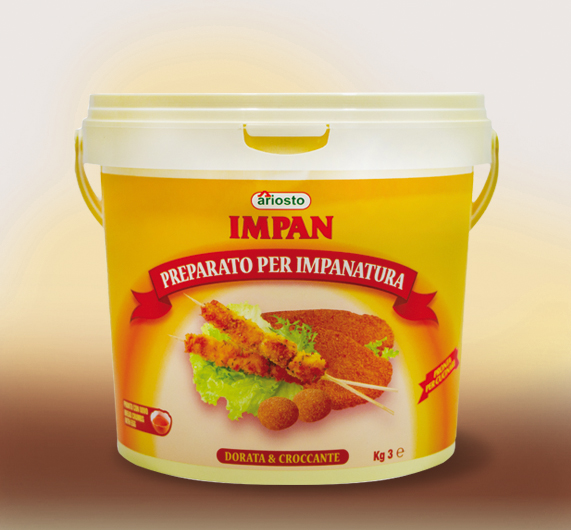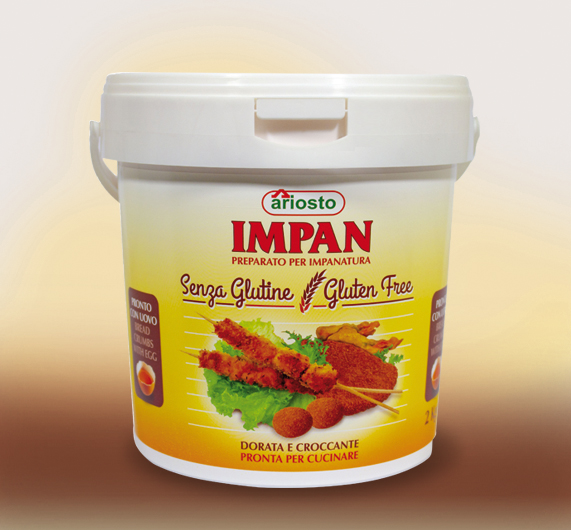 Gluten-free Impan
Gluten intolerance has for years now been a problem for caterers and food producers too. Ariosto's sensitivity to the needs of all consumers can also be seen in this Gluten-Free version of Impan, its famous breading mix. Gluten-Free Impan (with eggs, cornflour and few other selected ingredients) is available in handy 2 kg tubs and enables cooks to prepare excellent fried food (delicate and dry!), thanks also to its low absorption of oil.
Lemon juice
For all catering uses, Ariosto Lemon Juice in practical 1 litre bottles is the optimum solution for preparing meat and fish dishes or salads. Obtained from concentrated lemon juice without added water.